Ron Oates' Antique Radio Collection
1920's, 30's, 40's, and 50's

The antique vintage radios shown below illustrate the early history and development of radio during the "golden years" of radio, during the period from 1920-1950. These pieces of history are from the collection of Ron Oates, AA4VK, and are shared here with visitors to this website. As part of this display, an effort is made to communicate some of the history that has resulted in the great radio communications technologies of today.
The below display is basically a collection of Atwater Kent Radios, along with several Zenith, RCA Victor, Emerson, and a few others. Mr. Atwater Kent was an early pioneer in the development of radio and was responsible for some of the "key" early inventions.
---
1920's
---
1925 Atwater Kent Model 20C &
1928 Atwater Kent Type E Radio Speaker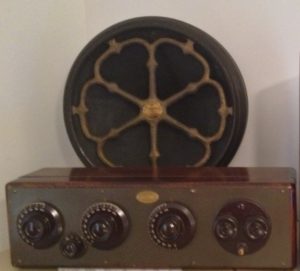 The Model 20C radio was manufactured in 1925.
---
1926 Atwater Kent Type H Horn Speaker
---
1930's
---
1933 RCA Victor Model 121
---
1934 Atwater Kent Model 145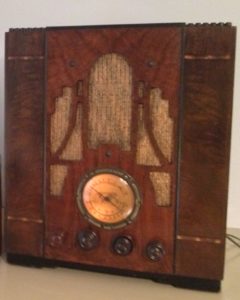 Tube Complement: 2A7 mixer/oscillator, 58 IF, 2A5 audio output, 80 rectifier. Approximately 14-7/8 inches
---
1934 Atwater Kent Model 206
The Model 206 radio was manufactured in 1934. It is an AC set which receives Shortwave as well as Broadcast bands.
Here is one of the high-styled and top quality receivers from the famed Philadelphia based factory. There was no finer maker of this era, and the company's dedication to electronic and cabinet artistry is legendary. This model is considered to be a classic! This is another uniquely shaped set, and a very detail with ornate carvings. The model 206 is the deluxe model of this series. This radio is a particularly nice example with a fine finish. The radio is a six-tube model sharing broadcast and shortwave capabilities. [This radio was purchased from Lew Magrish, a well known collector for several decades].
---
1935 Atwater Kent Model 337
The Model 337 radio was manufactured in 1935. It received both broadcast and shortwave bands, had 7 tubes, and was AC powered. An original of the above radio was the "childhood radio" of this collector and played a part in this collector becoming a ham radio operator and an electrical engineer. The original was given to this collector by Mr. J.B. Stroud, a merchant and neighbor in Faison, NC), in the mid-1950's. The original was "hauled" around for more than 50 years from location to location until its failure (disintegration) in 2012. A rarely-available restored version was discovered on eBay in 2013 and quickly purchased. Thus, some nostalgia from the 1950's (from this 1935 Atwater Kent radio) was restored.
---
193x Zenith Model 808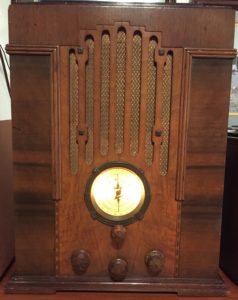 ---
1938 Zenith Model 6S229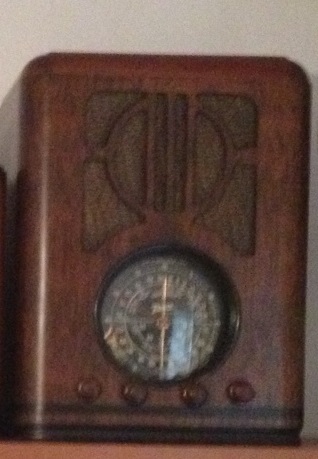 ---
1938 Crosley 517 Fiver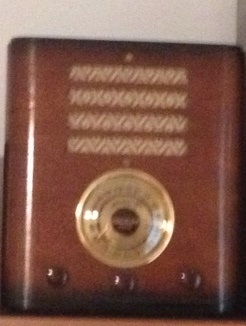 ---
1939 Emerson Model CS272
w/Ingraham Cabinet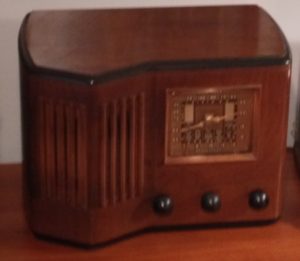 ---
1940's
---
1942 Emerson Model FH-440
w/ Ingraham Cabinet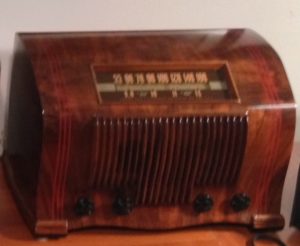 This radio was from the Ted Rodgers Museum Collection and is one of the "finer" quality pieces in the Ron Oates collection. The Emerson Model FH-440 cabinet was manufactured by the Ingraham Company. Below is a Youtube video of the complete collection of Ted Rodgers.
2013.01.07 – In memory of Ted Rogers – Antique radio collection
http://www.youtube.com/watch?v=qito06LUwsQ Ted Rodgers, Sr. was a pioneer and inventor in early development of radios in Canada in the 1920's. Ted Rodgers, Jr. was CEO of Rodgers Communications. The Rodgers Center (baseball stadium in Toronto) was named after him.
---
---
1946 Zenith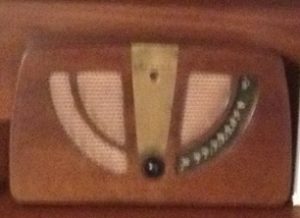 This radio is a from 1946 and was the family radio in the Oates family home in the 1950's in Eastern North Carolina.
---
1950's
---
Allied Knight-Span Master (kit)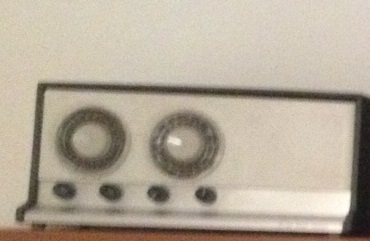 The Knight Kit, Span Master was sold, as a kit, by the Allied Radio Company of Chicago, IL. The frequency range is 0.540 MHz through 30 MHz.
An original of this radio was built by this collector in the late 1950. The above radio was discovered on eBay.
---
Allied Knight Space Spanner (kit)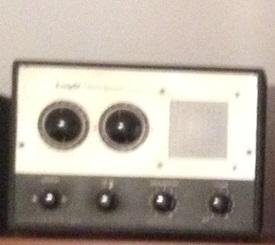 The Knight Kit, Span Master was sold, as a kit, by the Allied Radio Company of Chicago, IL. The radio design is a regenerative and includes four tubes.
The above radio was purchased on eBay. An original of this radio was built in the late 1950's, by this collector's best friend, from grade school and high school, The friend went on to have an admirable career as an educator, first as a high school science teacher and later as a principal of a high school in Eastern North Carolina.
---
1960's
---
Lafayette KT-200 Communications Receiver
The Lafayette KT-200 was very similar to the first shortwave radio receiver used by this collector in the early 1960's prior to obtaining a Novice class amateur radio license. The above very clean, like-new, and working replacement. This radio receives standard broadcast, as well as shortwave. The frequency range goes from 0.540 MHz through 30 MHz.
---